See More Jobs
Roofing Installer
Ridgeline Roofing Inc
2008 Frostbirch Way
Nanaimo
British Columbia
Description
Ridgeline Roofing has a seasonal (contract) roofing installer job opportunity available to start immediately.  We are a close team and are looking for men or women who are interested in a hard days work, good with their hands and enjoys a team atmosphere.
Selected candidates will be trained in safety and our business practices at the start of your employment.  We also pay you to be certified in Fall Arrest and basic First Aid.
You will be provided a starter set of tools, safety harness, tool pouch, work pants and shirts, and knee pads.
Pay is based on your experience and growth with the company.
Duties
• Install and repair shingled roofs
• Work hard.  Be Safe.  Look out for one another.
• Help deliver projects with quality and efficiency
• Repair and replace broken materials
• Be punctual and respectful
Qualifications
Carpentry or roofing experience would be a bonus but in the end, if you are a good learner, a hard worker and are good with your hands, we would be interested in talking more.
Extras
At Ridgeline Roofing we work very hard to be above the normal in our industry.  We support those who come into our business to be the best version of themselves, while in return we expect solid contribution and growth.
We often work 4 x 10 hours in a week, but as the season can get extremely busy, there is also opportunity for overtime as well.
We offer as much opportunity as an individual can ask for, with paid apprenticeships through the Roofing Contractors Association of British Columbia we sponsor workers to get their Red Seal in roofing. A ticketed trade that the demand is rapidly growing for every year.  For ambitious workers who are big picture thinkers we offer partnership opportunities in our company and even opportunities to start a division of Ridgeline in other markets.
Benefits
Ridgeline offers benefits to all eligible employees. Extended Benefits include:
• Life Benefits
- Group Life
- Accidental Death, Disease & Dismemberment
- Dependent Life
• Health Benefits for:
- Prescription Drugs
- Extended Health Care
- Vision Care
Job location
About The Company

Ridgeline Roofing Inc
2008 Frostbirch Way
Nanaimo British Columbia V9X 0A5 CA
Ridgeline Roofing is a team of highly skilled tradespeople focused on roofing repair and new installations for residential and commercial buildings. We service the Vancouver Island communities that include Nanaimo, Ladysmith, Duncan and everything in between. We are well known for being fast, efficient, reliable, clean, safe, respectful and excellent customer care.
Visit The Company Website

Opens in a new Window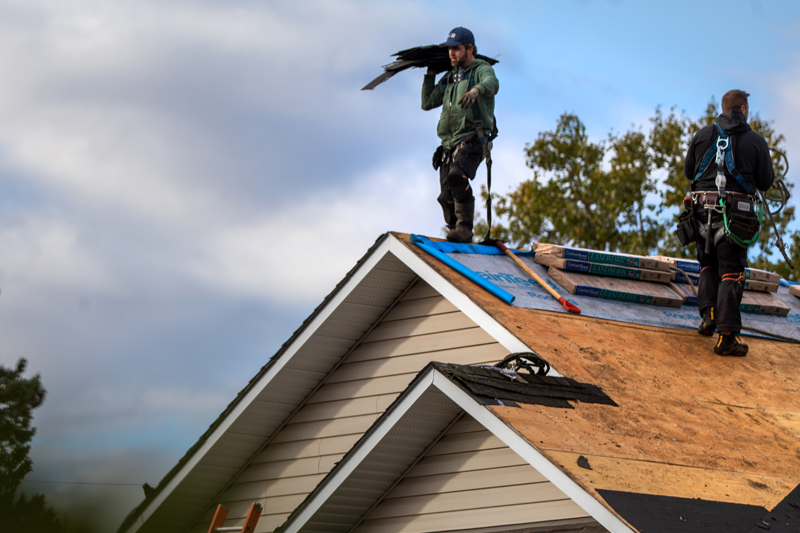 Job Details
2008 Frostbirch Way Nanaimo British Columbia